Register for Holday Lunceon
*** This is PREPAY ONLY Event. Please RSVP & pay for this event by 5pm on Thursday, December 5. ***

Date: Tuesday, December 10, 2019
Time: 11:00am-1:00pm
Location: Wheat Ridge Recreation Center, 4005 Kipling St., Wheat Ridge, CO
Cost: $25 for BOTH WRBA Members and Non-members, $175 for corporate table of 8
This is a PREPAY ONLY event to avoid long line for check-in. Thank you for your cooperation.
Download Your Invitation from HERE >>
Speaker: Peter Lynch, Fortune 500 Executive, Award-winning Entrepreneur, Global Keynote Speaker, Top 100 Podcaster

Title: The Impact Method – the art of connection in an age of distraction
About the presentation:
The Information Age is dead and we have entered the Attention Age.
The Attention Age is about the rise of conversation, authenticity and storytelling as a currency for organizations to connect and engage a modern workforce and overwhelmed customer base. It is a real and raw conversation about the next level advantages you can implement to grab the attention and inspire real connection. In this talk, built from his book The UGLY Advantage, Peter uncovers the secrets to powerful engagement delivered through the impact of conversation, authenticity and storytelling.
Come learn from this TEDx speaker, former Fortune 500 executive and passionate storyteller in this impactful session.
Spread the Generosity for this Holiday Season – WRBA is collecting cash donations for Feeding the Future Backpack Program to support our school-age children in need. Money will be collected at BOTH November meeting and December Holiday Luncheon.
---
Peter Lynch, Fortune 500 Executive, Award-winning Entrepreneur, Global Keynote Speaker, Top 100 Podcaster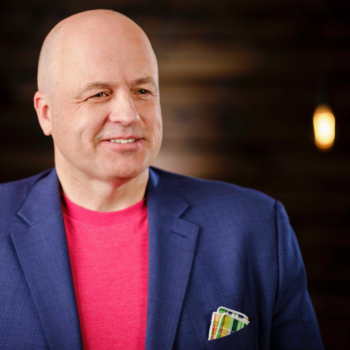 Peter Lynch is the CEO and Founder of Hitch Studio. A noted Fortune 500 global executive in talent, operations, change management, and training. As an entrepreneur, he developed the app Digital Fridge that has been downloaded in more than 70 countries and launched a podcast that reached the top 25 ahead of The New York Times and Harvard Business Review. A TEDx speaker whose connection with audiences is legendary, he lives in Denver.
He is also a sought out high-performance coach with current clients including an NBA coach, a presidential candidate's sr. advisor and several executive teams.
Peter is known for his impactful storytelling and has taken his message of success through authenticity to leaders and teams on 5 continents.
Thanks to Holiday Luncheon Sponsors!
Please click logo to view their profile
In-kind Sponsors