RSVP for May Breakfast
*** Please RSVP for this meeting before 5pm on May 3 ***
Date: Tuesday, May 8, 2018
Time: 7:00am-9:00am
Location: Wheat Ridge Recreation Center, 4005 Kipling St., Wheat Ridge, CO
Cost: $15 for WRBA Members and their guests, $18 for Non-members
Speaker: Christopher Peck
Topic: "Unleash the Secret Formula to Speaking Success"
Meeting Sponsor: Esteem Journeys, LLC – Amber Betts
Member Business Spotlight: Lowrey Burnett – Avison Young, Ella Cressman – Ella Cress Skin Care
---
May Speaker – Christopher Peck, Public Speech and Interpersonal Communications Coach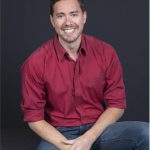 You will learn:
How to turn your intimidation into inspiration
What it takes to be a S.M.A.R.T. communicator
Three body language No-Nos!
How to make an unforgettable first impression
Christopher Peck, Strategic Communications Coach, Professional Stage Director, Actor, Educator, and Self-Professed Introvert! Even though he's an introvert, he promises to share great ideas to help us become more poised and confident whether we're making a group or one on one presentation. Christopher coaches real estate agents, health and wellness practitioners, entrepreneurs, teachers, CPAs and mortgage lenders to name a few. When you apply his S.M.A.R.T. formula you'll learn how to better share your ideas confidently and passionately leading to the results you desire.