Annual Membership Information
1. Select Your Membership Level:
Our membership investments were updated as we added more values to your membership benefits. Updated membership levels are as follows:
General – $75/year
Patron – $210/year*
President's Circle – $550/year*
*Please note: Effective November 2022, our meeting price increased to $20 per person. Adjustments to the membership dues were made to reflect the change.
Benefits of Joining Wheat Ridge Business Association include the following: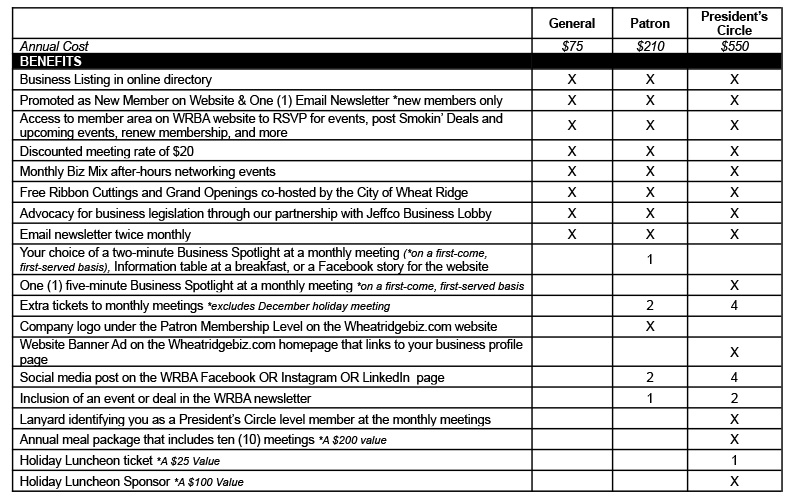 ---
2a. Join online (Instant access)
New Member – Please click on THIS LINK to join online >>
2b. Send in Your Membership by Mail (Off line – takes longer)
Fill out the form and mail with your payment* to:
Wheat Ridge Business Association
PO Box 1231
Wheat Ridge, CO 80034-1231
*Please make checks payable to "Wheat Ridge Business Association"
---
3. Pay your membership online using credit card (New Member & Renewing Member)
If you are mailing your check, you don't need to do this part. If you have received your renewal invoice, your membership payment can be made using the button below.
New Member – Please click on THIS LINK to join online
Renewing Member – Please click on THIS LINK to log in and renew online
---