The Passport to Wheat Ridge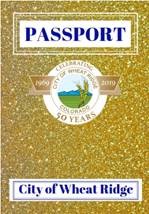 In planning for Wheat Ridge's 50th Anniversary, the City of Wheat Ridge is creating The Passport to Wheat Ridge to help support the renovation of the Wheat Ridge Police Department's first police car, Unit 1. This passport program will help build relationships between the City and local businesses while promoting major Wheat Ridge events.
Each Passport includes offers and ads from local businesses as well as Wheat Ridge events. Businesses would provide discount offers much like a coupon book and residents would redeem those offers by getting Passport pages stamped as they fulfill the offers in the book.
The City plans to print 525 Wheat Ridge Passports (modeled after passbooks available in Denver and Fort Collins).
Interested businesses can submit an offer (% off for instance) for inclusion in the Passport by Nov. 27. Those who don't have an offer but still want to participate could provide an ad by Nov. 30 which would appear in the middle of the Passport. Businesses can provide an offer for the Passport at no cost, and all ads are $100.
Deadlines for ad and offer submission are as follows:
November 27 for business offer (link below or sign up at Nov. 13 meeting)
November 30 for business ad submittal and payment
Send Registration Form to bdvorak@ci.wheatridge.co.us
Wheat Ridge Passport Offer Early Registration Form
Please forward this information to other Wheat Ridge businesses. Thank you for your interest in this project!