November 2023 Meeting
*** RSVP for this meeting by 5pm on Thursday, November 9. No walk-ins are permitted. ***

Date: Tuesday, November 14, 2023
Time: 7:00am-9:00am
Location: The Vista at Applewood Golf Course – 14001 W 32nd Ave. Golden, CO 80401
Cost:  $20 for WRBA Members and their guests, $25 for Non-members (*Please see below)
Topic: "Igniting Success Through the Power of AI"
Speaker: Susan Frew, President of Sunshine Home Services and the President of the Colorado National Speakers Association

Susan Frew brings a fresh perspective to the world of AI. While she may not be a trained expert, her innovative use of AI in her professional speaking engagements and home services company showcases her as a valid "Super User of AI."
With a knack for concise communication, Susan navigates the realm of artificial intelligence in a way that resonates with her diverse audience – from blue-collar workers to white-collar executives. Susan's unique blend of expertise in AI sets her apart as a trailblazer in leveraging technology for tangible success.
 You will learn:
Which AI tools can help you increase efficiency
How to use AI to write more appealing-error free content
How Pictory can simplify graphic design
President's Circle Member Business Spotlight: Steve Whitney, Group Insurance Analysts (GIA)
Patron Member Business Spotlight: Jo Schantz, Jefferson County Library Foundation
Speaker: Susan Frew, President of Sunshine Home Services and the President of the Colorado National Speakers Association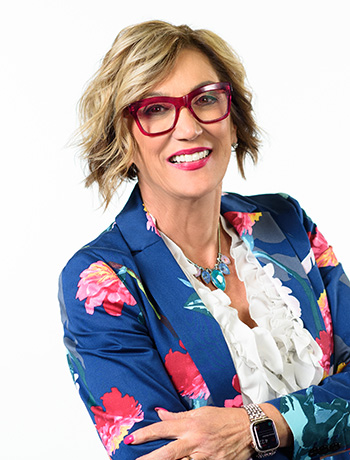 Susan Frew, the woman of many talents! She's not just your former International General Manager with AT&T Wireless, Business Coach, and ESPN radio host. Oh no, she's a TEDX presenter, and guess what? She was rocking hot pink before Barbie even thought about it – Talk about setting trends!
Now, as an AI super user and business trailblazer, Susan doesn't just wear multiple hats; she's got a whole collection! President of Sunshine Home Services in Denver, Colorado, and the big cheese as the President of the Colorado National Speakers Association. That's some serious multitasking!
But hold on to your thrift-store hats, because in 2018, disaster struck. Sunshine Home Services realized they had made a hiring blunder that could've sent them running for bankruptcy! But Susan, with her action plan, grit, and determination, turned that ship around. She learned from coaching 17 different trades and 150 companies through the recession, all while being an AI aficionado and business guru.
Now, that's what I call multitasking with style!
******************************************************
 *IMPORTANT PLEASE READ – About our Monthly Meeting

Our monthly meeting tickets are:
Member – $20 per person (member and member paying for their guests. Must be logged in to their member account)
Non-member – $25 per person (guests visiting the second time and returning past members)
Punch card is $100 for 5 punches. (Available for members only. Credit is loaded into your member account)
Annual meal package is $225 for the whole year (10 meetings @$20/ea plus 1 holiday luncheon @$25/ea. We will still RSVP for you automatically and if you can't make it, you are encouraged to send in someone else in your place. This is a use-it-or-lose-it program with your convenience in mind).
The WRBA will cover the first meeting for prospective members. (Need a completed guest card), Second time visitor is $25
Additional persons attending from the member business or guests of a member, if registered by the member logged in to their account, is $20/ea.
Each meeting ticket includes hot breakfast, but not eating the breakfast WILL NOT excuse you from needing a ticket as we submit the headcount to the venue and pay for it. Please consider the ticket price as cost for the great networking opportunity and information you will receive. No-shows will be invoiced, unless notified BEFORE the RSVP is closed.