Join us for January Biz Mix
Photo credit: Ryan Budnick, Legacy Mediaworks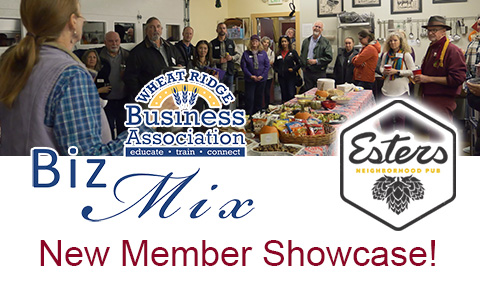 Please register from the form below so we know how many people to expect.

Date: Wednesday, January 18, 5:00-6:30pm
Location: Esters Gold's Marketplace – 10151 W 26th Ave. Wheat Ridge, CO 80215

Please join us at the Brand New Ester's Neighborhood Pub just opened and help us welcome them into our community! This is also our 2022 New Member Showcase. Please plan to attend and come meet all of the new members, who joined in 2022! Invite your friends and enjoy an evening of casual networking.
Just announced – Ribbon Cutting for Esters Neighborhood Pub will also take place during this event!
Bring your business cards, your friends & family and come ready to network.

Register for Biz Mix
______________________________
Every Member Drawing for Biz Mix
How does it work? – We have names of all WRBA members, Yes ALL member; not just the ones who are there, in the barrel and during the event, we'll draw one (1) name. If your name is called and you are present, you win $100 cash! If you are not there, then we'll return the name to the barrel for next month's drawing and add the unclaimed $100 to the following month's $100 and the prize next month becomes $200, and so on. To claim the cash, you must be present and must be a WRBA member in good standing (with dues current). Not only it's a free event, you as a WRBA member may win cash for just being there.
*If you are up for renewal prior to this, please renew your membership to make sure your membership is in good standing. If you are not a member, yet, join before the drawing then we will add your name to the barrel.