February 2022 Breakfast
RSVP for February Breakfast
*** RSVP for this meeting by 5pm on Thursday, February 3. No walk-ins are permitted. ***

Date: Tuesday, February 8, 2022
Time: 7:00am-9:00am
Location: The Vista at Applewood Golf Course – 14001 W 32nd Ave. Golden, CO 80401
Cost:  $15 for WRBA Members and their guests, $18 for Non-members
Speaker: Alyce Blum and Keith Bailey, Co-Founders, Articulated Intelligence
Topic: "Stop Your Top Talent from Leaving for the Competition: Creating a Culture of Internal StoryConnectors"
You will learn:
Why sharing stories is critical for employee retention
How to find personal stories that can be shared in professional settings
Simple steps to increase confidence when it comes to internal networking
President's Circle Member Business Spotlight: Sean Nealon, Realtor
Patron Member Business Spotlight: Emily Green, Cibo Meals
COVID-19 update… Please review the current recommendations from Jefferson County Public Health from HERE
Alyce Blum and Keith Bailey, Co-Founders, Articulated Intelligence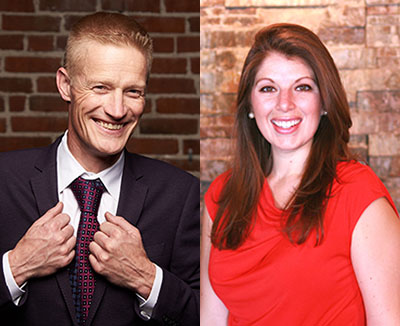 In 2012 Alyce became a Certified Professional Coach sharing scientifically proven tools and her own experiences to coach, consult, and facilitate sessions on how to build meaningful and lasting relationships via effective communication skills, with a focus on storytelling. In 2019 she partnered with Keith Bailey when they co-founded Articulated Intelligence.
Keith's background is in hospitality and global corporate sales where he learned the power of storytelling for profit, influence, and fun. With 16 years as a personal and corporate coach, Keith is motivated by the success of others in his quest to help you live a life well-spoken.
Their mission is helping people prevent unintentional audience abuse so that one's personal and professional brand stand out through the words they share with the world.