August 2022 Breakfast
RSVP for August Breakfast
*** RSVP for this meeting by 5pm on Thursday, August 4. No walk-ins are permitted. ***

Date: Tuesday, August 9, 2022
Time: 7:00am-9:00am
Location: The Vista at Applewood Golf Course – 14001 W 32nd Ave. Golden, CO 80401
Cost:  $15 for WRBA Members and their guests, $18 for Non-members
Speaker: Brian Elms, Founder – Change Agents Training
Topic: "Innovative Problem Solving"
Innovative Problem Solving: Practical Ways to Improve Your Work
 You will learn:
How organizations who focus on small improvements can make huge impacts
To democratize change and innovation
A few hacks on how to improve your work systems
President's Circle Member Business Spotlight: Troy & Tinamarie Seyfer – Seyfer Specialties
Patron Member Business Spotlight: Simon McGowan – Rocky Mountain Insurance Network
Brian Elms, Founder – Change Agents Training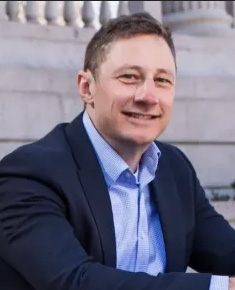 Brian was referred to us by Cheryl Brungardt who has been friends of his parents for decades. He lives in the Highlands in North Denver, graduated from Pomona High School and did his student teaching at Wheat Ridge High School. He's one of seven siblings. His parents live outside of Golden and several of his other siblings in Jefferson County. Home grown and nationally known; we are privileged and honored to a nationally recognized speaker and consultant with us today.
Brian Elms is the author of Peak Performance and an Urban Leadership Fellow at the University of Nevada Las Vegas. He served as the Director of Peak Academy and Analytics for the City and County of Denver for more than five years. He has done work for both Hancock and Hickenlooper. Brian specializes in government innovation and process improvement providing management expertise to government agencies, elected officials, and nonprofits.
Brian started his career in public service after graduating from Regis University and joining AmeriCorps as a team leader. He worked for the Governor Rendell Administration in Pennsylvania as the Policy Director for the Department of Aging.
Brian is the CEO and Founder of Change Agents Training to focus on creating employee-driven innovation programs around the country.